Re: DreamScape: You're GOD. What Run-Down Neighborhood Would
An aerial of the present site. This triangle of land is called Belvidere Park. It's rarely used. There is a soccer field there, but little else, and the park is not well-maintained. It's not a good site for a park. It's an odd parcel. The land slopes down from Independence Avenue to I-35.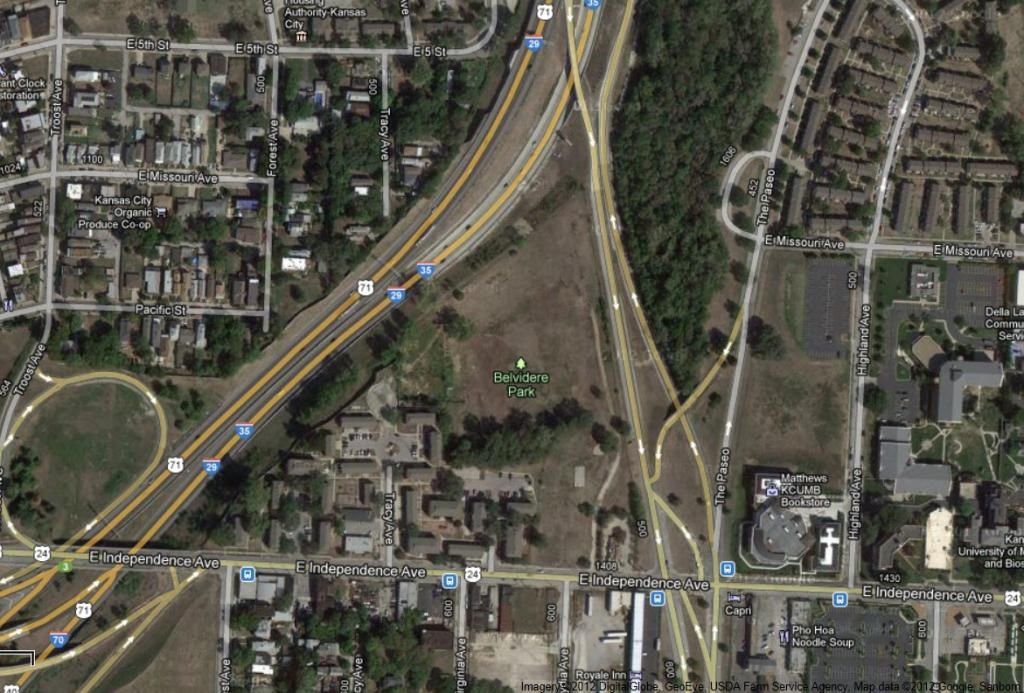 The Courteau Courts public housing project is slated to be demolished. The City is putting together a Paseo Gateway renewal plan for the surrounding neighborhood.
My idea is to take this triangle of land north of Independence Avenue and build the Zaha Hadid building there. It could be a replacement building for the Stower's Institute for Medical Research. With the grade of Belvidere Park, a large underground parking garage could be placed under the building. Sitting atop the garage on that point between Paseo and I-35, the building would sit in a very prominent position as one enters downtown.
It would become an iconic building that would help transform Independence Avenue, and the north end of Paseo--creating a true "gateway" unto Paseo going south, and Independence Avenue heading east.
Placing the building next to Kansas City University of Medicine and Biosciences would boost the university as well as plant a seed for a public/private biosciences district in the Paseo West neighborhood.
My plan also assumes that KCUMB will grow into a larger university with more enrollment and on-campus housing. The campus would grow outward. My fantasy situation would be that the Housing Authority of Kansas City would sell all the nearby public housing projects to the university to use for student housing, and the residents of those projects would be placed in scattered sites around the City. Switching the population nearby from low-income public housing residents to university students would transform the neighborhood. It would also increase the value of existing residential buildings along Paseo.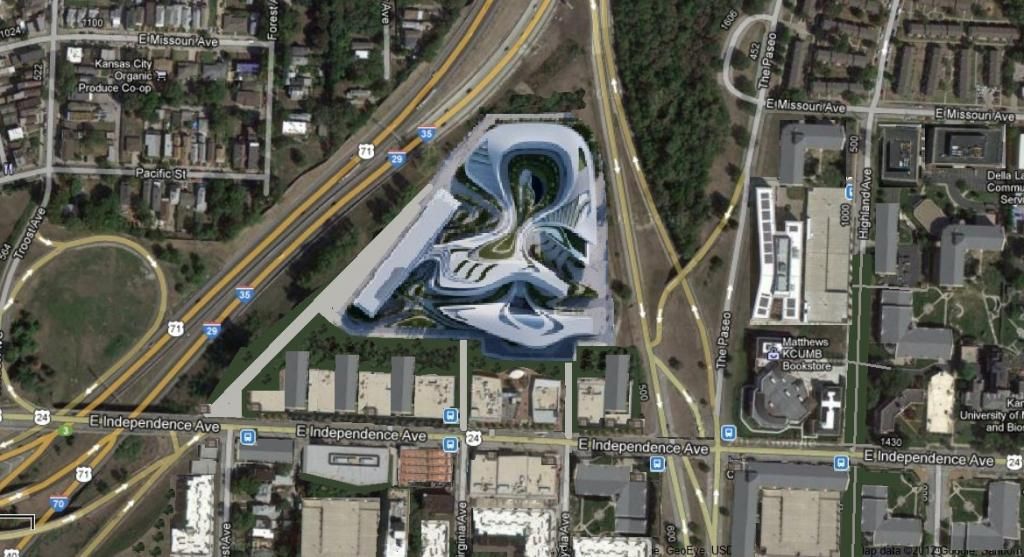 In addition to the Zaha Hadid building, new structures and interior parking garages would be constructed along Independence Avenue and Paseo. A retail strip would be included between Forest and Paseo on Independence Avenue.